Royal Sands Resort
and Spa
Royal Sands Resort and Spa
The Royal Sands Resort and Spa is a newer and incredible vacation destination within the Royal Resorts Group. There is something for everyone in the family at The Royal Sands: multiple swimming pools with swim up bars, brand new outdoor hot tubs, restaurants, excellent food and drink menus, sports and karaoke bar, large exercise facility with the latest equipment, 4 tennis courts, spectacular health spa, complimentary activities and equipment including snorkel gear, bicycles, sailboats, golf and tennis equipment!
Enjoy the conveniences of an on-site grocery store, car rental, travel agency, activities desk, doctor, concierge, business center and more. The exceptional staff at the Sands will give you 5-star service for the ultimate vacation experience! As a guest of the Sands you'll also enjoy the privileges and amenities of the other four Royal Resorts (3 in Cancun and 1 in Playa del Carmen), as well as those of The Royal Yacht Club.
The Sands features a full spa offering a variety of first-class amenities for all Royal Resort guests. This includes a complete fitness center with modern weight and cardiovascular equipment, aerobics room, sauna, hot tub, steam room, beauty salon and spa treatments. Don't miss out…treat yourself to the best… book your vacation at The Sands today!
The Royal Sands features 316 suites and villas and offers the flexi-villa concept, which allows for accommodations for 2, 4 or 6 persons. The room configurations are as follows: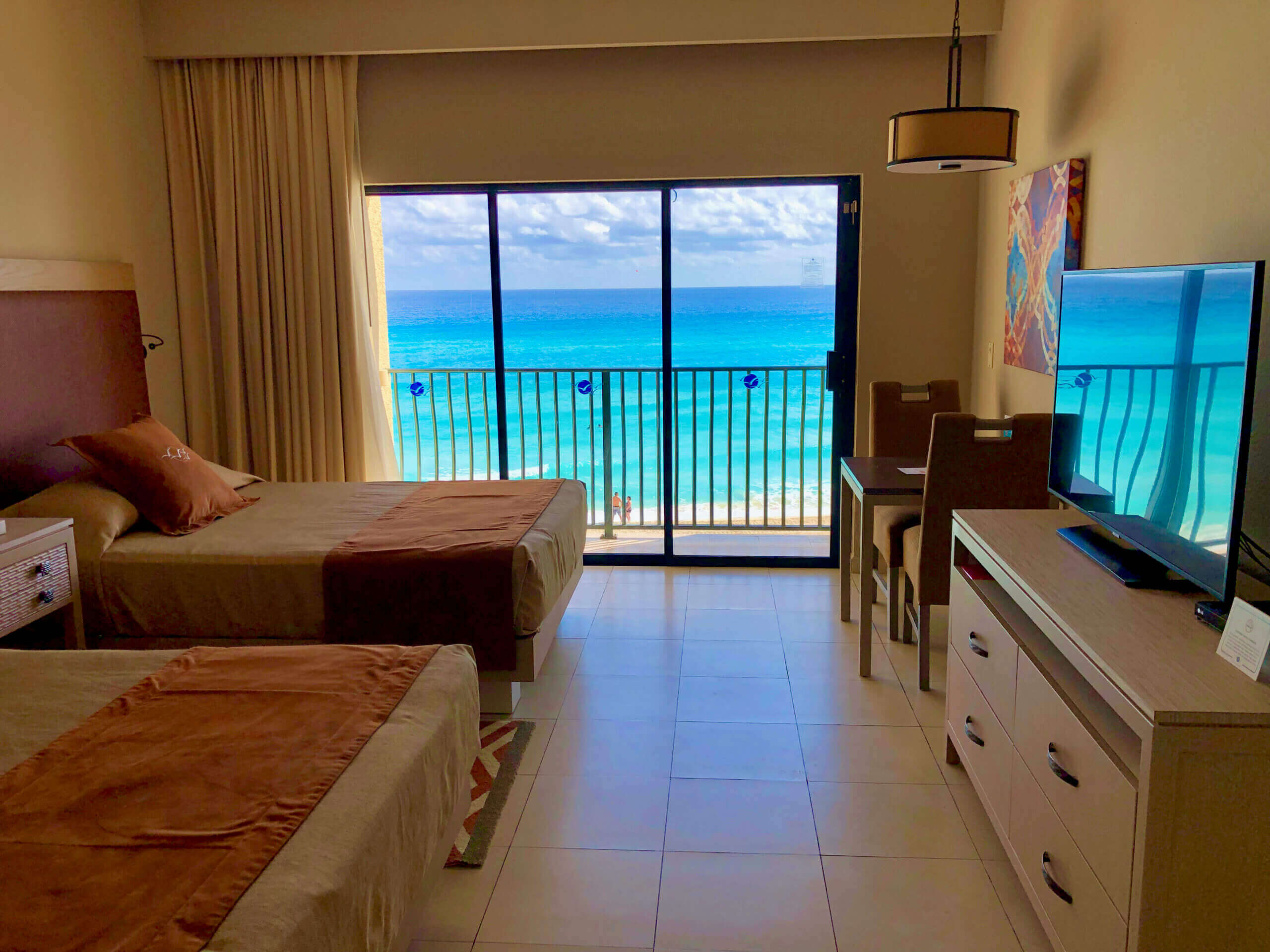 1. Two double beds, quaint balcony.
2. Full bath, central A/C, ceiling fan.
3. Mini-fridge, microwave, coffeemaker.
4. Flat-screen TV, wi-fi and in-room safe.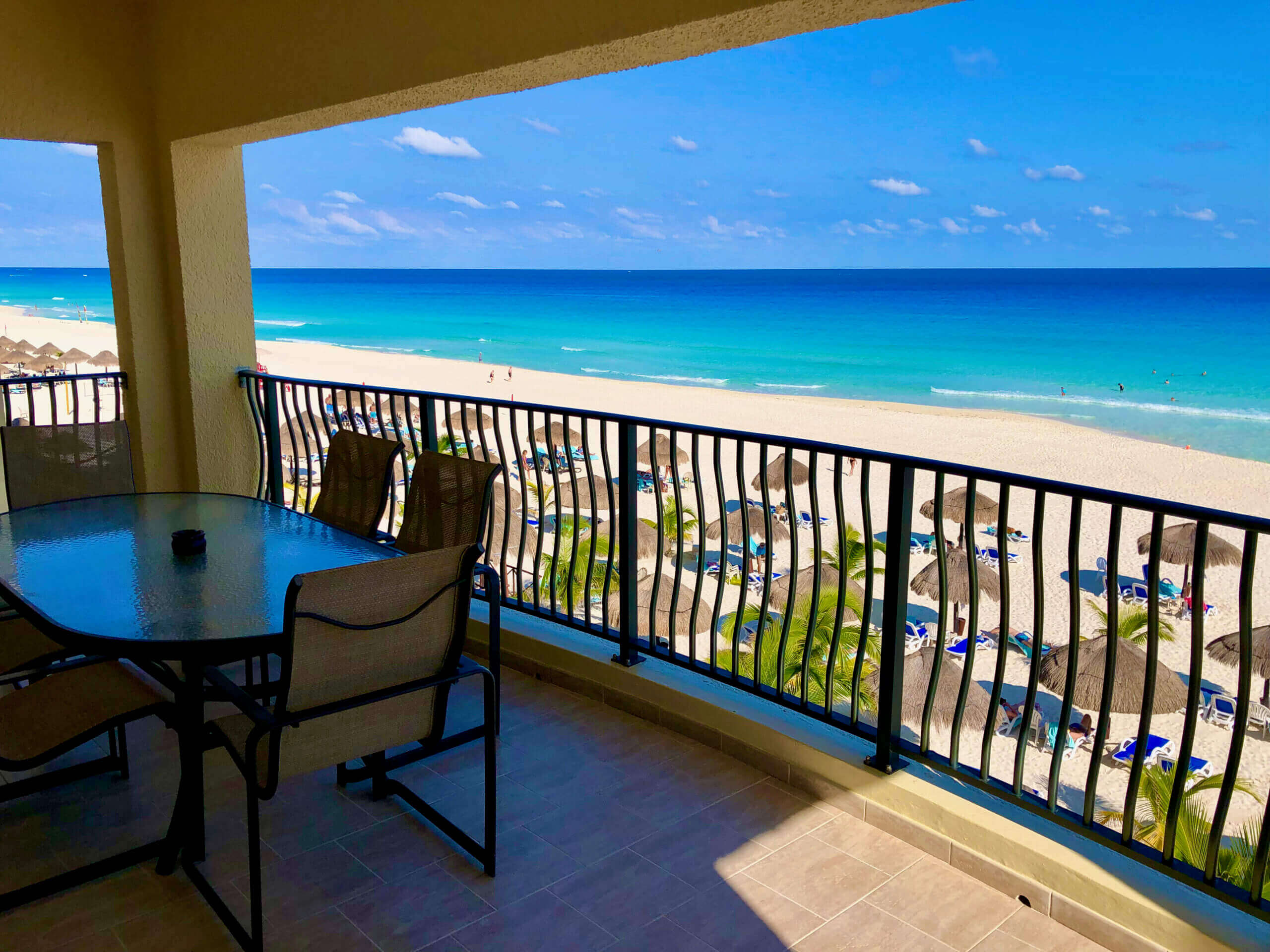 1. One bedroom with king-size bed, full bath.
2. Fully equipped kitchen with all appliances and cooking utensils.
3. Living area with sofa, chairs and twin Murphy beds.
4. DVD & sound system, 2 flat-screen TVs, dining area, central A/C, ceiling fans, and in-room safe.
5. Huge balcony/terrace with relaxing furniture and direct beachfront view over the Caribbean Sea!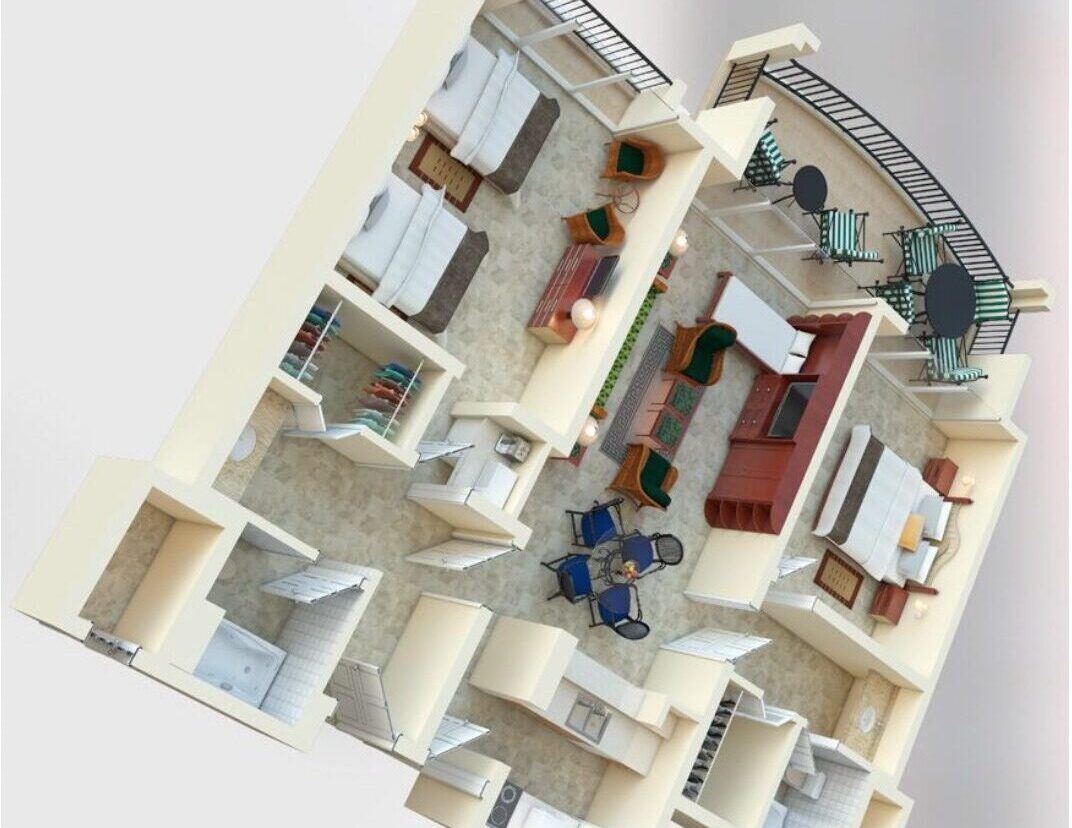 This is the combination of the Hotel Room (lock-off) PLUS the One Bedroom Suite with a lockable door in between.
Beachfront Unit Locations
As a Real Estate Professional for over 35 years, I certainly know the value of Location, Location, Location.
I personally selected unit I-5224 in the pre-construction phase of the Royal Sands. Not only is unit I-5224 direct beachfront which captures the sunrise each morning but is also an end-unit offering more sunshine on the balcony because of its southern exposure.  In addition, the balcony allows perfect views of the sun terrace one floor down and the entire Phase One swimming pool, swim-up pool bars and the outdoor hot tubs.  I-5224 is located at the end of the hallway so you will not have others passing by your doorway on their way to/from the beach or pool. 
Likewise, unit P-5445 is a spectacular beachfront end-unit with direct sea views. In addition, this prime unit is adjacent to the huge upper sun terrace; simply walk out your door, take a left and there you are – free to sunbathe on (what seems to be your own) 600 square foot sun terrace with relaxing lounge chairs and amazing views. Just another perk of vacationing in unit P-5445!
While AI rates are subject to change,
the latest per day rates are as follows:
Adults (18+)               $79
Teens (13-17)             $57
Children (4-12)           $22
Children (0-3)             Free
As a guest of mine you will not be required to select an all-inclusive stay at the Royal Sands. It is optional and available should you choose. There are many amazing restaurants all around Cancun, many of which are within walking distance of the Sands. You may also shop at the Royal Market (on-site) and purchase food and cook in your room (Suite and Villa rentals include full kitchen). Should you choose the all-inclusive option, you simply request it when you check-in at the Resort.
The rooms fill quickly each year!
Please email [email protected] or call 612.747.9900 with any questions
and reserve your place in paradise!
Hotel Room (sleeps 2, lock-off):
Timeshare Week
Date

Weekly Rate

Week 49


December 9-16, 2023

Week 50


December 16-23, 2023

Week 51


December 23-30, 2023
One Bedroom Suite (sleeps 4):
Timeshare Week
Date

Weekly Rate

Week 49


December 9-16, 2023

Week 50


December 16-23, 2023

Week 51


December 23-30, 2023
Timeshare Week
Date

Weekly Rate

Week 49


December 9-16, 2023

Week 50


December 16-23, 2023

Week 51


December 23-30, 2023